Happy New Year Little Binches - I wrote a children's book!
toot toot
I have returned to the land of pizza rats and waterfall subway stations! Thanks, I hate it. Only slightly, though. I did think about what I wanted to share with y'all when I was away, though. Without further ado: I wrote a children's book, about queer heroes throughout history, and you can pre-order it now.
It was illustrated by Sarah Tanat-Jones and Sarah did an amazing job, I want a bunch of the pages framed not because of what I wrote but because THEY'RE JUST SO BEAUTIFUL. This was such a fun, restorative project I sneakily did in between writing other things (which you will eventually see…..later, I suppose). I hope you buy it for all the babies in your life! I will talk more about in closer to the pub date in May, but in case you didn't hear about it before… yeah. Ha.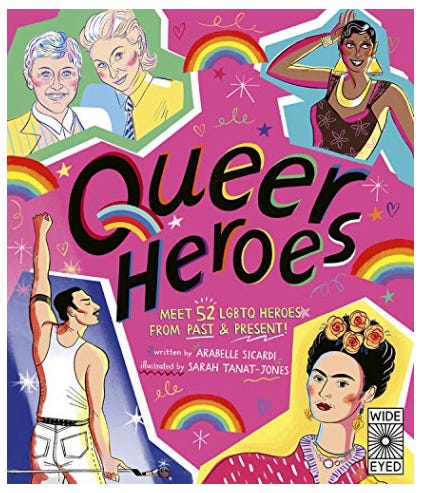 In other news. Here is a preliminary toolkit for 2019. I would have sent it New Years Eve but I wanted to just enjoy my days and not be near the computer until today, so. One of my resolutions is to be offline a lot more.
Unsentimentality is not a cure or even a palliative to the suffering that consumes our headlines and newsfeeds. Its offers a troubled and troubling encounter with the shared world that produces such suffering. Facing facts in the terms laid out here does not mean simply knowing them, which is why the aesthetic component of this project is so important. If facts alone could lead us to the promised land—facts about climate change, gun violence, terrorism, war, racial prejudice, economic inequality—then we already live in a paradise of facts. The problem is not that we do not know what is happening but that we cannot bear to be changed by that knowledge. The women I discuss in the following pages all insist that we should be changed, however much we give up in the process.
Okay! Hope you have a good rest of your day. xo