My beauty book sold :')
Hello! Long time no talk; thank you for your patience. It's been a hectic few months. I'm in London right now, only for another few hours before I hop to Paris, and I thought I was in Amsterdam for a few hours the other day, trying to buy new contacts in a drugstore - which you apparently can't do here. LOL. I'm looking forward to slowing down on the traveling in the next few months. But a great deal of my trips this year - most of them - were work related, to residencies and such. Which did work out, in the end… because I sold my book!

Most of my friends and even enemies know I've been working on one for several years; I imagine following my work on other platforms is how you're even a newsletter subscriber and have been waiting for this news, too. Thank you for being excited with me, and for celebrating with me, and I hope when the pre-order link is available you'll buy a copy or twelve. It won't be for awhile yet - I luckily have time to write the rest of it, and then the edits… it will be awhile, but now, at least, you know you have something to wait for.
In the mean time, you can always revisit my archives on beauty and terror on Tumblr (RIP tumblr). Here are some selects I shared literal years ago that helped me write so far:
The power of a pretty girl… totally unquantifiable. But this much is certain: there is nothing a beautiful girl in the West cannot have, for a time. And I don't speak from any far off hilltop–I'm as much a sucker as anyone. I've risked everything for a certain look, for tapered fingers or a particular mole. So I hear you when you say it's not what she says, not what she does, that it's on her. It's something she wears and however skin deep it may be on her, it penetrates you right to the marrow. Pretty girls lie at the centre of straight culture, dyke culture, fag culture. They sell everything, they buy everything, they ruin great men and women, and finally they ruin themselves, accidentally, simply by getting old. I think about them. Sometimes I want them and sometimes I worry about them–even though it's not my business to do. I wonder about them. I wonder if you are the pretty girl in question. I wonder what you do with a power which, though potent, makes you vulnerable to every probe, every demand, every infiltration? I wonder what you do with a power that turns you into an open atlas upon which any idiot can map their own route? - Zadie Smith
And this poem by Anne Boyer (whose new book is amazing too, naturally):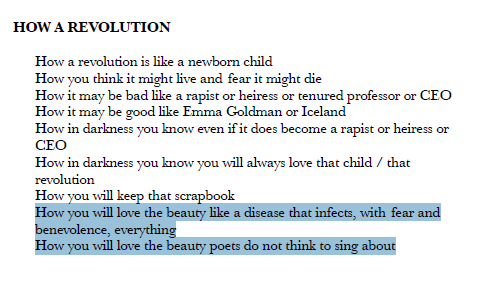 But it makes the most sense to show you the poem the name of the book is borrowed from. It's by Mark Doty, and can be found in Fire to Fire.
HOUSE OF BEAUTY
In Jersey City, on Tonnelle Avenue,
the House of Beauty is burning.

On a Sunday morning in January,
under the chilly shadow of the Pulaski
Skyway,
the House of Beauty is burning.

Who lobbed the firebottle through the glass,
in among the crèmes and thrones,
the helmets and clippers and combs,
who set the House of Beauty burning?

In the dark recess beside the sink
– where heads lay back to be laved
under the perfected heads rowed along
walls-
the hopeful photographs of possibility darken,
now that the House of Beauty is burning.

The Skyway beetles in the ringing cold,
trestle arcing the steel river and warehouses,
truck lots in Indian groceries,
a new plume of smoke joining the others,
billow of dark thought rising
from the broken forehead of the House of
Beauty

– An emission almost too small to notice, just
now,
alarm still ringing, the flames new–launched
on their project of ruining an effort at
pleasure,
glass jutting like cracked ice in the window
frame,
no one inside, the fire department on the way.
All things by nature, wrote Virgil, are ready to
get worse;
no surprise, then, that the House of Beauty is
burning.

Though what ever happens, however far
these fires proceed, reducing history to
powder,
what ever the House of Beauty made is
untouchable now;
nothing can undo so many heads made lovely
or at least acceptable, so much shapelessness
given what are called permanents, though
nothing holds
a fixed form. Bring on the flames,
what does it matter if the house is burning?

Propose a new beauty, perennially unhoused:
neither the lost things nor the fire itself,
but the objects in their dresses of disaster,
anything clothed in its own passage:
padded vinyl chair burst into smoky tongues,
Lucite helmet sagged to a new version of its
dome.
Our black bridge, a chard rainbow on iron
legs,
two ruby eyes glowering from its crown.
If beauty is burning, what could you save?
The House of Beauty is a house of flames.
With much love (& gratitude) (&excitement) (& a bit of nausea) -
Arabelle