on mutual protection
staying devoted to you
Every day for the past week, I've been waking up to the dull hum of bombs a few mountains over from where I live right now. Really, the military testing site begins down the block, but the block is miles and miles long. It doesn't feel that close. It is, though. My nearest neighbor is a half-melted house where moths and crows are landlords. I can hear coyotes howl from god knows how far, which means they can hear me playing Mitski, who lend herself well to their howls. Every sunset is obnoxiously beautiful. California invented sunsets, I'm pretty sure.
I love it here because it feels like an absolute holding pattern for my work. I'm suspended in both great beauty and the echoes of very expensive, very mundane horror. It's where I'm supposed to be right now, writing as fast as I can for as long as I can to stay ahead of what I'm afraid of. Though I'm not really ahead of anything, because everything I'm afraid of is already happening right now. I'm very lucky to be here. I'm holding on to it with my claws.
It's hard to not be paralyzed. But being methodical and careful and very kind right now is good. I play Oblique Strategies every day in the morning and document it and it is one of my longest running rituals when I'm in a deep writing hole. It helps me be careful and keeps me close to my instincts. I've been getting asked a lot about it since I've been sharing the photos on Instagram, so this email is a glorified link to that if you were wondering. Peter Schmidt and Brian Eno created the original pack of Oblique Strategies cards in the late 70's, through thinking about approaches to their own work as artist and musician. Bowie used to use them to write song lyrics, too - his original deck was part of the Brooklyn Museum retrospective. I found that very comforting. I had no idea before going.
Here are some snippets from my notes the past week. Maybe you'll find them helpful too:

That's from Thinking in an Emergency, which I suggest you read next to Hope in the Dark if you haven't read that already. I recommended Hope in the Dark right around the election, and it still holds. "Hope is an axe you use to break down doors in an emergency." What a line tbh.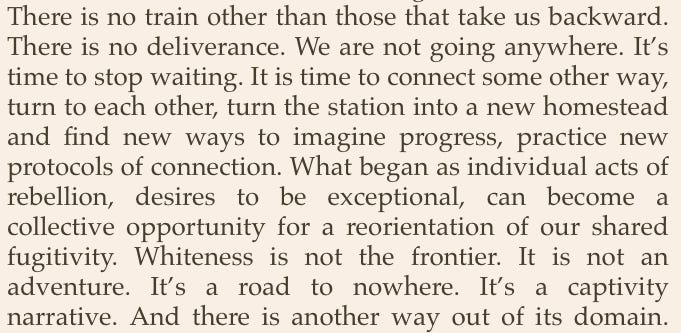 From Radical Dharma, which is also one of my favorite books of 2017/2018.
And here are some readings that have always comforted me:
I Am Your Conscious, I am Love: Hilton Als on Prince. I listen to Purple Rain on vinyl every morning here, so it's no surprise I've revisited this. I actually don't ever reread the whole thing, though. I end up loving it a little less if I do that. This is the best part: "Once, I heard this story about you, Prince: You liked a girl so much, but all you wanted to do was touch the shoes she wore and sleep at the foot of her bed. You treated your love for her like a dream other people wouldn't think was worth having. Did I do the same?"

This old profile on Tilda Swinton is good for what Tilda says about loneliness. It also dissects her role in The Deep End:
As we see Margaret first, we think her weak. But she is, under duress, steel. What was remarkable in Swinton's performance was her avoidance of climaxes of emotion. She insists on the ordinariness of her action, as she goes about, with a ceremonial informality, covering up for her child. All pathos is expunged, there are no heroic antics. Far from playing a glamour symbol, she is a real, imperfectly shaped, human being. What is seductive here is that it is the actor as us - not them.
(I whisper in the corner: ordinary devotion!!! And then completely dissolve into fog.)
Spend some time wandering Systems of Pain/Networks of Resilience today, ok? It is worthwhile.
With love -
Arabelle
P.S: