Some favorite notes on perfumes
Greetings! I haven't known what to write to you all for a while; but I have been collecting these tidbits of perfume knowledge while researching some book stuff and thought they were worthy of sharing. Some of my favorite perfumes: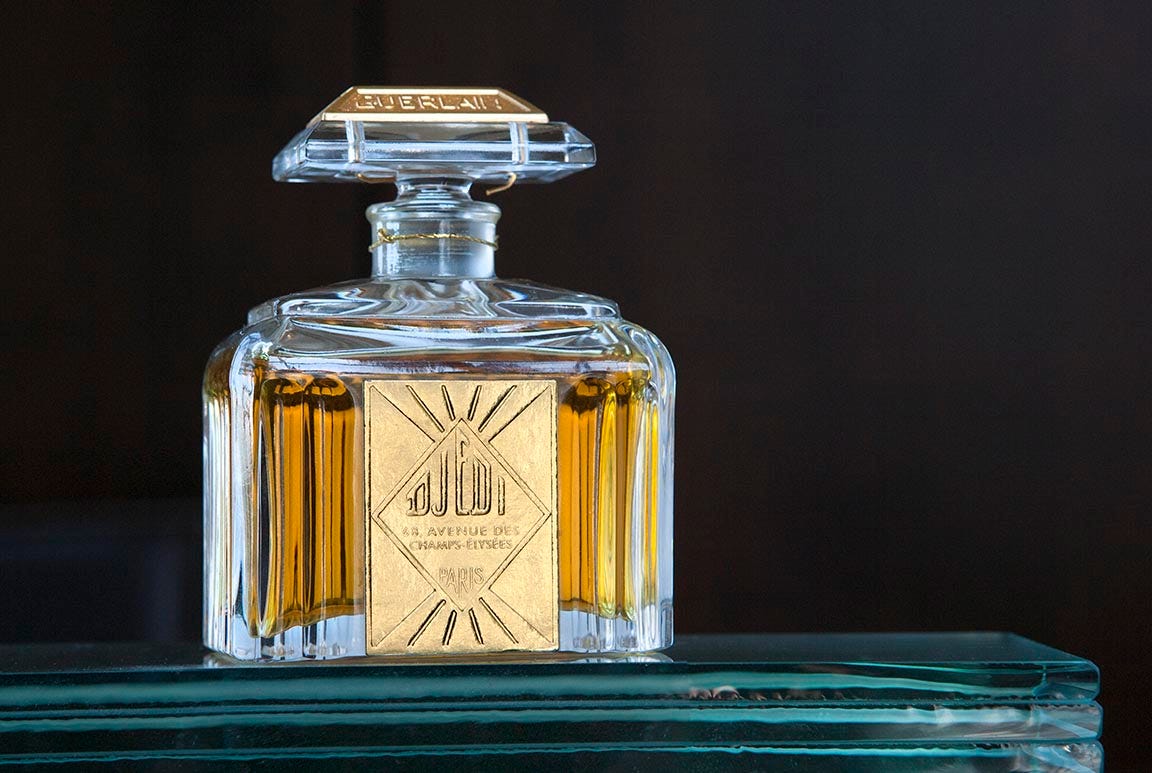 Guerlain Djedi, 1927. From this:
Djedi was the legendary magician of ancient Egypt. Pharaoh Khufu, the god-king, had brought Djedi to court to entertain his courtiers. Pharaoh wanted to see if Djedi could rejoin a severed human head to its body. Djedi said he could, and Pharaoh commanded a prisoner be brought in and decapitated for his amusement. But Djedi refused, saying, "Do not do this to a human being, my sovereign lord: surely it is not permitted to do such a thing to one of the noble herd of God." Pharaoh agreed and permitted Djedi to rejoin the head of a duck to its body instead.

The message for that most blood-soaked of our centuries: there are things that human beings should never do to each other.

For those who have been lucky enough to smell it, Djedi is the strangest perfume ever created, and often the most beautiful.

It opens with scents of stone and mineral. One might think of camel thorn bleaching in the desert sun, or smoke rising into the desert sky. Then it opens into rose and iris, vetiver and spice, beautiful and brief, before melding into leather and bitter herbs, and musk that is both animal and powdery and that to some people smells of roasting meat. One might, if one is so inclined, think of burning tanks and what happens to the crew inside, or of dead infantrymen. Indeed, some people note a scent of putrefaction, even of feces.

The overwhelming impressions of Djedi are of a regal beauty that is conquered by terrible grief, a beauty that does not stoop to weeping or pleading, but is broken to standing ruins like a shattered sword.

To name a perfume for women–wealthy, cultured, aristocratic women–after a mythical Egyptian magician who is remembered to us for upholding the human dignity of a condemned prisoner was the act of a great perfumer who understood that he was living in a civilization that had no serious defenders.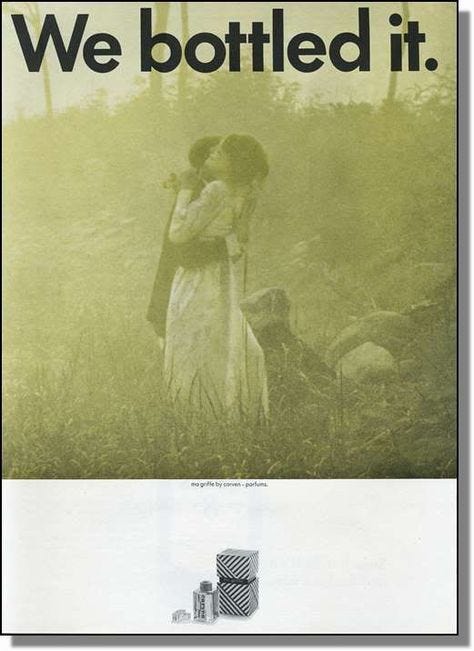 Carven's Ma Griffe, 1946:
Carven hired a small plane to fly over Paris and drop thousands of tiny green and white parachutes (the perfume box's colours), each with a cargo of a sample of the fragrance. Parisians were stunned, and a massive traffic jam created.  It was a symbolic moment, indicating to a war-battered community that France, luxury and the perfume industry were firmly back on track.
It had a lot of interesting (controversial? terrible? amazing?) campaigns. Here's another one, from Mademoiselle, in the 70's.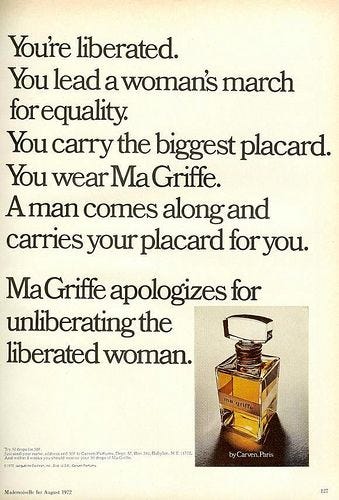 One of the best floral perfumes ever created (it won "scent of the century in 2000) was actually created in response to the Wall Street Crash of 1929. Joy was known for being the most expensive perfume in the world (a brag Chanel No.5 briefly held previously). You can read more about it here.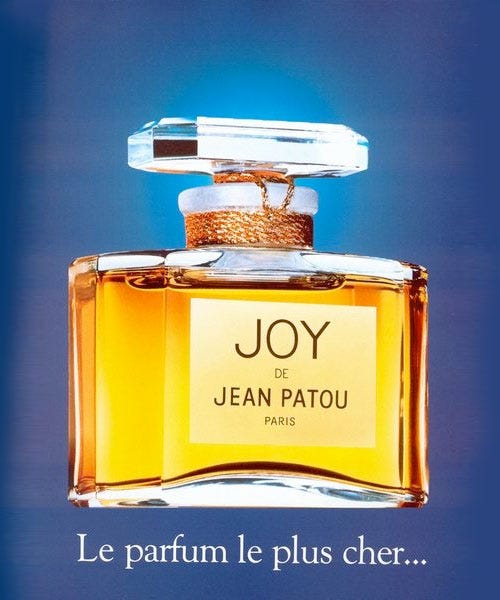 A page from one of my favorite books has a good tidbit about 001COTY, from 2001: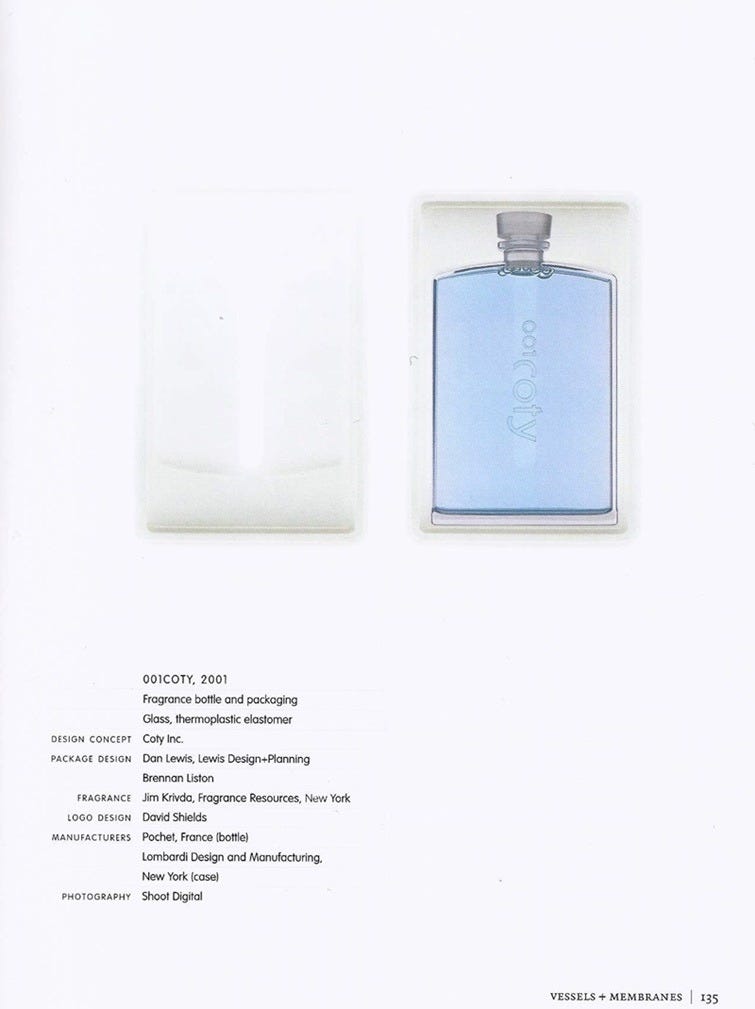 To create this limited-edition fragrance and packaging, Coty sought to reflect the convergence of bodies and technology. The flask, modeled on a simple, modern design from 1917, is enclosed within a flexible skin made from the same type of plastic used to cover prosthetic limbs. The unisex fragrance is intended to evoke the smell of electricity, the scent of digital information.
And finally, a suitable excerpt from one of my favorite poetry books: