There will be a beauty photoshoot going on in space as the world explodes.
True story!
Lately I have been watching a lot of space shows to cope. Something about the cold vacuum of space and its vastness is immensely comforting to me. We are egotistical and hopeful and naïve and bold to think we ought to explore anything but the own consequences of our collective actions here on Earth. I just finished watching AWAY, and have been comparing it as a capsule of time to other space shows like Battlestar Galactica, which was amazing and also very much a product of a Bush-era America.
None of this has anything to do with beauty, per say, but do imagine my surprise when I got an email in my inbox that told me this happened:
Here are more of the details, according to Beauty Matters:
Boston-based Space Commerce Matters is said to have signed an agreement with NASA on behalf of Estée Lauder to send 10 bottles to the ISS. As part of the deal, NASA astronauts will spend more than four hours capturing images and film of the product [Advanced Night Repair Synchronized Multi-Recovery Complex]. The deal is said to be worth $128,000, which covers a maximum 5kg load and astronaut time, which is charged at $17,500 per hour, New Scientist revealed.
This isn't the first commercial filmed in space, but it is the first beauty advertisement done there. It is a very viral-bait way of moving the conversation from Estee Lauder from their summer of employee-led activism regarding Ronald Lauder's multi-million dollar contributions to the Trump administration and their efforts to quell that conversation. They issued a press release on their commitments for racial equality early this summer as a response to the petition created by employees to oust Ronald Lauder from the board and have the company issue a donation to Black Lives Matter that is equal or more than the contributions to Trump that have happened over the years. Lauder didn't oust a Lauder - that would have been legendary - but they did get the company and the Lauder family to pledge $10 million over the next three years to various social justice organizations. You can bet that I will be monitoring their political spending on all the watchdog websites to see how this pledge progresses……
While I'm sure this NASA initiative has been in the works for quite a long time - the timing is nice for them to be moving the needle. Of course, the whole idea of doing this advertisement at the moment seems a little off-kilter given the state of America at the moment. But late stage capitalism doesn't wait for a polite time to engage with us - in fact, it does a very good job at sucking up every opportunity to exploit literally anything, including the great freezing vacuum of space!
Some other space-related links:
And in other beauty news:
Anyway, that's all for today. I apologize for this missive being such an odd amalgamation of chipper voice and capitalist doom - but I hope you learned some stuff, too. I will leave you with this Q&A with Eula Biss from Jezebel and this screenshot fragment from Having and Being Had by Eula Biss: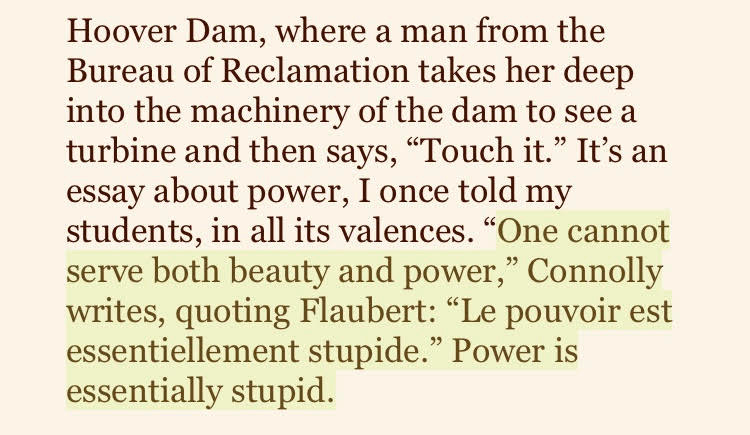 Yes, exactly.
Talk soon,