On Beauty Companies and Campaign Contributions
Case Study: Ronald Lauder.
Hello, friends. There are many bigger financial stories at the top of all our minds, probably, but I did want to give you an update on that Estee Lauder story a few days ago. Yes, they will be paying $17,500 an hour to NASA to photograph their Advanced Repair Serum, their hero product, in the International Space Station. But the Lauder family also decided to do something else: Ronald Lauder donated $1.7 million to the creation of a Republican SuperPAC against Biden. 
To contextualize this, here's what to know about how campaign spending works in America:
Money probably isn't the deciding factor in who wins a general election, spending doesn't affect wins for incumbents but it makes a difference for challengers. (Source)
Ronald Lauder is a billionaire, and $1.1 million is less than 0.1% of his net worth. For a big general election, that isn't a lot of money and it is also so late in the game it likely means very little towards ensuring a specific outcome. But you also have to consider what this money is being earmarked for specifically. The scenarios it is funding isn't a huge, grand campaign to replace deeply Democratic seats with Republican ones, it is to deny a Democratic Super Majority. (A Supermajority means the ability to pass legislation without a single Republican vote.) The money is being spent in local Senate seats to weaken local power structures and also as a hedged-bet of party-line politics. And of course, just because it's not a lot of money to him in the scale of his wealth does not by any means dismiss the fact it is still a shit ton of money made through a company that is currently laying off thousands of employees, some of which are striking.
This donation throws Estee Lauder's financial donation commitments currently off-balance against their pledge to donate millions towards social justice organizations to even out their financial donations politically, something their employees petitioned over a few months ago. But it is also not Lauder's first SuperPAC, just the one created for this election cycle. He previously donated $1.1 million to Secure America Now (SAN) in 2016 before the election, which subsequently ran anti-Muslim ads on Breitbart to help Donald Trump. (He's also known Donald Trump, personally, since their college years. - and ran against Giuliani for Mayor as a Republican in 1989.)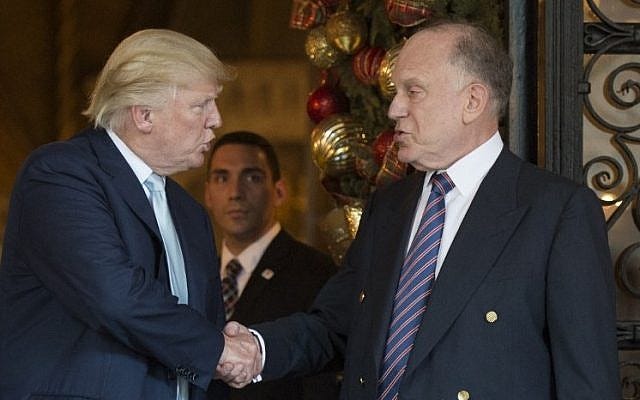 If you don't know what a SuperPAC is, it's how companies and wealthy individuals and organizations funnel spending outside individual political contribution limits. You can donate up to $2,800 per election as an individual but through SUPERPacs, you can contribute a lot more. They can raise and spend unlimited amounts of money. Super PACs must identify all of their donors to the Federal Election Commission, and by that, to public record. But that means nothing when the donor is a shell corporation or a nonprofit that doesn't disclose its donors - and if the donor is a 501(c)(4), it doesn't have to. When it is reported that Ronald Lauder, for example, has donated "X" amount of dollars towards organizing for Trump, that is a simplified statement that takes into account it was done through a shell corporation, through a series of loopholes in how political spending works, which prevents individual accountability and transparency into what the goals and consequences are.
Tracing political spending is notoriously difficult and intentionally so. Donations can be made through friends or acquaintances if not directly, and those people can have their own shell corporations and holdings companies, and the only way to trace them back to you is to know interpersonal relationships on a very broad scale - those kinds of donations are not listed or declared to the FEC. An individual can also have any number of LLCs and companies, so just because they make a contribution associated with Estee Lauder Inc, does not mean that is all they contribute generally.
Secure America Now is a 501(c)(4) organization, so they don't have to disclose how they spend all their money. They just have to report when they explicitly spend money campaigning for or against a particular candidate. On their website, they claim to be the "largest national security digital platform in the nation" and highlight some of their various projects. Georgetown University did a very thorough factsheet highlighting the network and machinations of SAN over the years, which explains the relationship between Lauder, SAN, and the various ads they've funded. Lauder disavowed his relationship to SAN once it became known they funded anti-Muslim campaign videos, citing that he donated due to the organization's position on Iran's nuclear program. But his longtime political advisor - then and now - is still the organization's President, Allen Roth. OpenSecrets had a good scoop on the organization in 2018 - I'm going to be keeping an eye out on how much info is disclosed about how the new SuperPAC spends its money, but I don't think the pattern is going to be significantly different from the line of funding Lauder has contributed money towards over the past several decades. I can count the number of times he has donated outside Republican-associated organizations on one hand - I have. Of course, most of his press is about the philanthropic work he funds: all of which is possible through his beauty brand inheritance. It is not as if these things are disassociated; they are made possible through each other.
As a consumer, I am personally disinclined to want to buy from brands that I know create profits for conservatives who disagree with my identity - I won't even say politics, because my identity defines my politics. (The shortcomings of identity politics is a whole other newsletter edition entirely. To that end, Minor Feelings rules.) As a beauty writer, I also used to feel an obligation to try out products from a diverse group of brands to test them based on what they do for the individual. But - I don't do product reviews or recommendations for publications anymore because I also know that my unbiased reviews of an individual product can be construed as support for a brand's larger political project, and lead people to buy them, which still pays for someone else's agenda - which is often in direct opposition to mine.
My view on the subject greatly aggrandizes my position in the industry. But I know that my recommendations have led products to jump several thousand positions in the Amazon listings to become leaders in their product categories, and that isn't a small amount. I have been a consultant in every stage of how a beauty brand is made at this point, so my understanding of how one person can shape other people's choices is not abstract. Even with this behind me, I'm a "micro-influencer," an insignificant speck on a leaderboard that is many multiples more powerful than influencers were when I began blogging.
Far bigger "influencers" than I have eventually become wealthy and industry monoliths themselves. I'm a nobody, but my impact still means something and still shapes the wealth and livelihood of people with far more power than I. They owe their empires to millions of 'nobodies' - nobodies just like me, and nobodies just like you. The way this power works is that it fully relies on also becoming a VERY BIG nobody - in groups we now call SuperPACS. Anonymity is real wealth.
I use the term 'nobody' intentionally here, remembering this commencement speech Tourmaline gave a few years ago, that I deeply love. An excerpt:
Capitalism cares about the individual. It wants individual figures separated from one another and from the very ground that has produced them. It likes the figure because it is easily captured, hypervisible. Like a dark mark on a light page or a bright mark on a dark page, a high contrast image, easily seen from a distance, we are told to be or become a distinguished figure separate from the ground that supports us. In art and design, this is called figure-ground relations, this play between visibility and support, between form and the informal.

. . As we know, we're always moving between institutions that make us feel like we've gotta be the best like we're one step away from being a nobody. Maybe that's college or the company you work for; academia, or the art world; the welfare system, or public housing. All these institutions, as different as they seem, are built to make us feel less than like we're not enough like we are nobody.

. . . And in this idea of nobody, I want to first say that no one is a nobody, that everyone is valuable, and that so much violence has been done to so many through the act of deeming entire populations of people nobodies–namely black and indigenous people, queer and trans people, disabled people, and everyone living at the intersections of those experiences, has been deemed nobody. At the same time, a very small group of people (or certain specific people) have been deemed somebody—deemed of value.

We all know the damage that it can be to be called nobody and yet there is power in that word and in that world of no-bodies. It's a power Denise Ferreira da Silva cites when she asks "Do we want to be somebody under the state or nobody against it?"

Another way of saying that is, do we want to be visible subjects of inhospitable institutions earning good credit by doing actions it deems of consequence and important, or do we want to go undercover, be fugitives to the institution and its morals, unruly to its attempts at incorporation and assimilation. Maybe, and this is one of the hardest lessons I've learned, sometimes we want or need to do both. 
I didn't write this to tell you what to do with the knowledge I shared, but I hope this missive shed some light on how political spending works, on your relationship in this unjust and anonymized theater of power, and how it directly relates to the brands you spend money on. I could write many more words on the subject - but I'll put them in my book.
Talk soon,
Arabelle